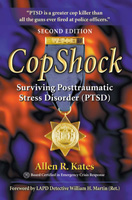 CopShock: Second Edition
Surviving Posttraumatic Stress Disorder (PTSD)

by Allen R. Kates, MFAW, BCECR
Trauma Support Sources
For Healing and Recovery

The 225+ mental health support sources in this section of the website are more than just a listing of randomly chosen resources. We researched, evaluated, and selected them for their usefulness and importance.

Most of these resources are reproduced from the book CopShock, Second Edition: Surviving Posttraumatic Stress Disorder (PTSD), by Allen R. Kates, and even though they were originally selected for police officers and their families, most of them apply to everyone, police officer, firefighter, warfighter or civilian. We've already added many more resources, and we will keep updating and expanding this list.

Although we have researched the products, services and information you are about to read, it is important that you decide how valuable they are to you. The organizations and people described here have not solicited us and do not pay for their listing. However, it is essential that you make sure they are valid, legitimate, reasonable, reliable and correct. Not every resource or support source is appropriate for every person. Ask for medical licenses, driver's license, references, next of kin, name of first born, pets... you get the idea.

Please click on the titles below to be taken to the list of support sources for those subjects.

And if you would like to create a link on your website to this section of our website, we would greatly appreciate it. We spent more than 6 months and hundreds of hours compiling, contacting, and describing these resources. For every source listed here, we reviewed and rejected about 5 or 6. With our frequent updates and additions, we hope to be your Go To site for mental health support. Please link to our support sources by using: www.CopShock.com/trauma-support-sources.php.

Be sure to check back often for new support sources and updates.


Critical Incidents and Intervention
Marriage, Mediation and Divorce

Panic Attacks and Panic Disorder
Peer Support for Police Officers
Peer Support for Police Officers' Family
Police Information and Psychological Support
PTSD Can Attack Years Later, Even With No Previous Symptoms (article)

PTSD and Trauma Research and Referral
Religion-Oriented and Faith-Based Support
Sex Addiction in Police Officers

Training Seminars, Allen Kates

Women-Only Police Associations
If you would like to suggest other support sources, please contact us. Thank you.




Copyright © 2008, 2019 by Allen R. Kates