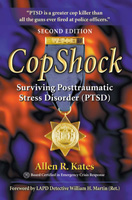 CopShock: Second Edition
Surviving Posttraumatic Stress Disorder (PTSD)

by Allen R. Kates, MFAW, BCECR

To Order CopShock

CopShock in its hard copy book format is the only genuine version.


CopShock, Second Edition


ISBN-10: 0966850122 ISBN-13: 9780966850123
Trade Paperback 6" x 9", 480 pages
List Price: $24.95 US


$24.95

Only $14.97 each

(+$3 USA shipping for 1 or 2 books!)

HSP Publishing
(Holbrook Street Press)



1) Pay with check or money order

Please use our handy Mail Order Form,
Please click here
or...
2) Pay with your credit card:
You will be taken to the secure PayPal website.
Membership not required.
Please click on
"Add to Cart"
below

*See also International Shipping to Europe, UK, Australia and Canada below*
---
CopShock, Second Edition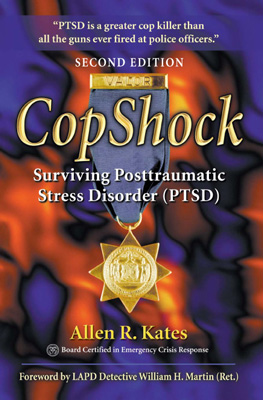 $ 14.97 USD
Publisher's Special Sale
40% Off! Only $14.97 each
+ $3 shipping in USA


Shipping 1-2 copies: $3.00 U.S. only

Shipping 3-4 copies: $6.00 U.S. only


If ordering more than 4 copies, please contact us by using Contact Information page

Sales tax charged to AZ residents only

Foreign orders, please call or email. Or scroll down to see International shipping to Europe, UK, Canada

Foreign orders, please order book first, then click on PayPal's "Continue Shopping" button to select shipping preference

Organizations, colleges, book trade, please call to order
Europe, UK First Class Mail Shipping--1 Book

$ 23 USD
6 to 10 days

For shipping 1 book only

Order book separately

Please use this option after contacting us to confirm rates
Please contact us by going to Contact Information page

________________________________________________________________________________________________

Europe, UK First Class Mail Shipping--2 Books

$ 34 USD
6 to 10 days

For shipping 2 books

Order books separately

Please use this option after contacting us to confirm rates

Please contact us by using Contact Information page
Canada First Class Mail Shipping--1 Book

$ 15.00 USD
For shipping 1 book only


Order book separately

For larger orders, please contact us by going to Contact Information page



You may have to pay GST tax

Canada First Class Mail Shipping--2 Books

$ 24 USD
For shipping 2 books


Order books separately

For larger orders, please contact us by going to Contact Information page



You may have to pay GST tax

Australia First Class Mail Shipping--1 Book

$ 23 USD
6 to 10 days

For shipping 1 book only

Order book separately

Please use this option after contacting us to confirm rates by using Contact Information page

Australia Priority Mail International Shipping--2 Books

$ 34 USD
6 to 10 days

For shipping 2 books

Order books separately

Please use this option after contacting us to confirm rates by using Contact Information page

Other online sources to purchase

CopShock

:
www.amazon.com
www.nleomf.com
www.barnesandnoble.com
www.chevronpublishing.com
www.cavershambooksellers.com (Canada)
You may also order
CopShock
through any bookstore
Copyright © 2008, 2017 by Allen R. Kates