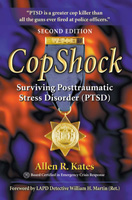 CopShock: Second Edition
Surviving Posttraumatic Stress Disorder (PTSD)

by Allen R. Kates, MFAW, BCECR
Common PTSD Symptoms


Nightmares
Flashbacks
Anger
Concentration Problems
Emotional Detachment
Avoidance of People and Places
As many as one in three cops or firefighters may suffer from PTSD, a condition that could lead to depression, suicidal thoughts, addictions, eating disorders as well as job and family conflict. More than one-third of warfighters returning from overseas have PTSD symptoms.



What is PTSD?

Posttraumatic Stress Disorder is called a disorder because it disrupts the normal functioning of our lives. It disrupts sleep, relationships, work and physical health. PTSD is called an anxiety disorder because some of its chief attributes are anxiety, fear and avoidance of feelings, people and places that we feel may cause us pain.

The definition of of PTSD, according to the American Psychiatric Association, starts with two key elements. To become candidates for PTSD, first we must have experienced or witnessed a traumatic event "that involved actual or threatened death or serious injury." Secondly, we must respond with "intense fear, helplessness or horror."


Can cops, firefighters and warfighters get PTSD?

But the way in which police officers, firefighters or warfighters react to shocking scenes may not accurately fit this definition. Cops, firefighters and warfighters rarely respond to horrible events with "intense fear, helplessness or horror." They usually appear calm and in control. That is because they have been trained "to dissociate from their emotions or suppress their emotions in order to be able to endure the scene."

Regardless of whether cops, firefighters or warfighters satisfy the definition for PTSD or not, they sometimes develop the condition. They set themselves up for PTSD if they suppress their emotions after a traumatic incident and do not get proper support. "They get stuck and life for them is changed."


If you're a cop, firefighter or combat veteran, is PTSD inevitable?

Nevertheless, PTSD is not an inevitable consequence of trauma for cops, firefighters, warfighters or anybody else. Nobody develops it automatically. Most people do not acquire it at all. As a matter of fact, many police officers, firefighters and warfighters thrive as a result of the traumatic experience and learn from it. For those who develop PTSD, however, they often don't know they have the condition because it can take months or years for a precise diagnosis.

An accumulation of several traumatic or violent events may lead to PTSD. But one major traumatic event is sufficient to cause the disorder in some people. Police, like combat veterans, are especially prone to developing it because they see so much despair, misery and harm done to others. Sometimes the harm is done to them.


What are PTSD's symptoms?

What distinguishes PTSD from other stress syndromes and makes it particularly hard to manage are these clusters of symptoms: (Simplified version.)


Reliving of the trauma

Persistently re-experiencing the trauma in episodes like flashbacks and nightmares.
Feeling as if the traumatic event is invading or intruding on thoughts.

Avoiding reminders of the trauma

Inability to remember important aspects of the trauma.
Avoiding thoughts, conversations bout the trauma or places that might remind us of it.
Numbing of responsiveness like becoming detached, uninvolved in family or work, withdrawing, having difficulty feeling anything for anybody.

Experiencing arousal, agitation as a result of the trauma

Problems in concentrating, falling or staying asleep.
Being irritable or bursting out in unexplainable anger.
Being easily startled, overreacting to situations as a consequence of being super-alert or hypervigilant about people or places.

The book CopShock helps you prevent PTSD or manage its symptoms so police officers, firefighters and warfighters are not crippled by the syndrome's effects.



To read
CopShock's
Table of Contents
Click
Here
Copyright © 2008 by Allen R. Kates